Selling A Home Before It's Even Finished
Updated: Mar 15, 2021
It's high time I put together an informational post about a service that often goes unmentioned around here at Arrange. I'll be talking all things renderings and showing a few we've done for our clients. Enjoy!
Being in the virtual design space not only gives me the creative outlet I wake up craving every day but it also helps my fellow entrepreneurs and homebodies when it comes to bringing design concepts to life.
What Is A 3D Rendering
Simply put, a rendering is a computer generated image used to showcase interior design and architecture concepts. Renderings are often used during the design process to help make decisions for architectural and material detailing. They are also used to help market a home, hence the title: Selling a home before it's even built!
Who Do Renderings Serve
This visualization tool helps architects, builders, renovators, designers and anyone needing help envisioning a home. Renderings are especially useful when it comes to marketing a residential or even commercial project (whether new or being renovated) before the project is complete.
How To Order A Rendering
When it comes to ordering a rendering to be created for you, you will need to handover the following information:
- Floor plan with dimensions. This way your rendering team can create everything to scale.
- Elevation drawings with dimensions. These show window and door placement, ceiling and roof height, along with cabinetry and any other design detailing.
- Material Specifications, including images if possible. Also known as 'finishes,' sharing these selections is important so that elements like flooring, lighting, hardware and appliances come out the way you have in mind. If you need help making selections, that is another unsung hero of services provided at Arrange, just send Christa a message if you want to know more.
Types of Renderings
Depending on your project, renderings of the Interior, Exterior and the Floor Plan really create a cohesive story for your viewers.
Interior Rendering - If you're trying to help people envision your project as their home, showing them "how it could feel" on the inside is the way to go! Not only will it give them a sense of space, but with virtual staging it can also give them ideas for furniture and decor layout!
Home Design: Spruce Homes | Rendering & Virtual Staging: Arrange
Exterior Rendering - This is likely the most common rendering done because the front of the house is usually what is shown when a home is listed for sale on MLS, property websites, Zillow.com, Realtor.com and even social media! As you can see, it really paints the picture and can allow landscape design or architectural details like paint colors and and siding finishes to be worked out if needed.
Home Design: Starwood Homes | Rendering: Arrange
Floor Plan Rendering - They say location, location, location in real estate, but when it comes to visually navigating a floor plans, most people are lost and can't even locate the front door much less how the master suite would be laid out. You can choose from the options of a Dollhouse view, which is best for smaller plans or a Birdseye view which works well to showcase a large floor plan.
Home Design: Starwood Homes | Rendering: Arrange
Expectations For Renderings
I live by the idea that disappointment is the result of expectations gone wrong. So when it comes to turnaround time, pricing and revisions for renderings, here are a few things to keep in mind.
Turnaround Time
The first step in creating a rendering is taking time to review the information from the client - ensuring we have everything need to generate the 3D model. Once the model has been built, all the materials have to be applied one-by-one, lighting and shadows must be set up and then finally the test render. The actual "rendering" part of rendering (when you hit the magic button that tells all the components how to work together) takes hours of waiting.
It's extremely rare that the first render gets the lighting and materials right.
All this to say, that turnaround time should be expected to take between 1-3 weeks.
Pricing
Because renderings are time intensive as I just shared paired with the fact that rendering software is expensive, you can expect rendering projects to start at the hundred dollar mark and vary depending on the project size.
Pro tip: If you get a secondary angle of the same thing often times there is price break!
Revisions
Anything design related is truly subjective and the rendering process usually requires a revision or two to make sure everything is accurate and to the clients liking.
It can't hurt to keep in mind that our computer screens and the lighting we view them in all read a little different.
The good thing is, we make it our priority to make you happy with the fact that you're trusting us to help you tell the story of all the hard work you've put in to design your project. We don't take it lightly!
Putting Your Renderings To Work
Now that you've made the best decision ever and have your rendering just right, there are a couple of things I suggest to make your marketing endeavors successful!
Virtual Staging
First up, if you haven't already, be sure you've chosen a Transitional look for the virtual staging that will appeal to the audience of potential buyers you're going for. As you can see furniture and accessories are what will take your client from seeing "that's a cool house status" to "omg I want to live there status" in an instant!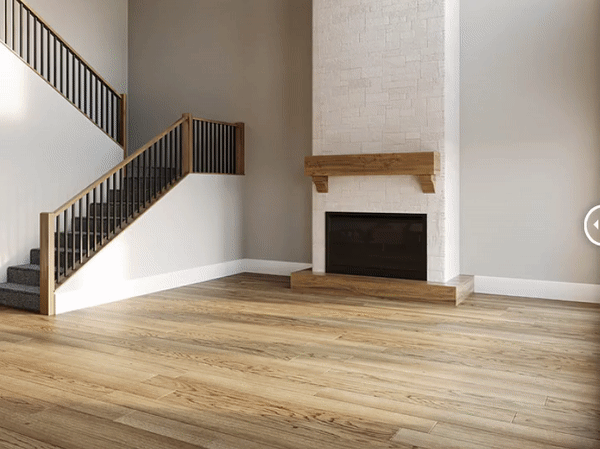 Get Them Printed
Our Branded Boards (which are showcased on our virtual staging page) are the perfect way to showcase your home once it's ready for visitors!
Having something tangible in the space may just be the very thing your viewers need to remind them of what got them excited as the saw your home online.
We will put your branding and contact information along with the highlights of your home. Showing everyone the possibilities you can create for them!
You can also order your chosen board layout as a 1-2-3 or 4-photo flyer, giving visitors a snapshot to take-home during their house hunting adventure. This will no doubt set you apart from the other homes they view.
Share Online
Last but not least, get those renderings out there! Having such a high-quality and compelling visual to tell the story of your project will give you that extra layer of confidence you need to get potential home buyers lining up to ask about your services!
Using the worldwide web to your advantage means getting it listed as a property website, posted to your digital portfolio and then sharing it on social media platforms like Facebook and Instagram.
I hope this blog post, as always, has been helpful! And if you have any questions or would like to get your rendering project started just send me an email christa@arrange.studio and I'll get you taken care of!
Be sure you've signed up for the Arrange Newsletter and are following us on Instagram!
Christa Rainey is the founder of Arrange who works with real estate professionals to provide digital interior design solutions for their marketing endeavors. She believes in the value of elevating property listings to attract home buyers by telling the story of a home's potential. Combining interior design principles with cutting-edge technology, Christa puts her Bachelor's Degree in Interior Design to use along with her 10 years of industry experience to work with and support both real estate brokerages and photographers all across the US - providing them with quality solutions in virtual staging.